Kenya Simbas vs Uganda annual Elgon Cup date cancelled
Friday, July 15th, 2022 12:58
| By
The Elgon Cup contest between Kenya Simbas and Uganda Cranes has been cancelled, organizers have confirmed.
Uganda Rugby Union, in a statement signed by Honorary Secretary Peter Odong, said that the competition, which was scheduled for July 23rd and 30th, 2022 in Uganda and Kenya, has been cancelled.
Simbas withdraw from 2022 Elgon Cup
According to Uganda's rugby governing body, Kenya Rugby Union requested not to participate in this year's Elgon Cup, citing current economic problems and the forthcoming general elections as the reason for their withdrawal.
"As you are aware, the annual Rugby matches between Uganda and Kenya 'The Elgon Cup' were scheduled to take place on 23rd July 2022 and 30th July 2022 in Uganda and Kenya respectively. We regret to inform you that these have been cancelled for this year, 2022, reads a statement Uganda Rugby Union.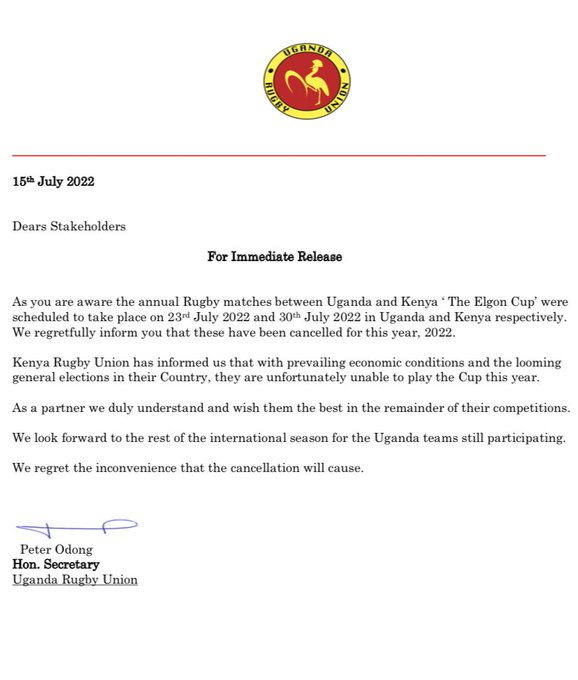 "Kenya Rugby Union has informed us that with prevailing economic conditions and the looming general elections, in their Country, they are unable to play the Cup this year," the statement stated.
"As a partner, we duly understand and wish them the best in the remainder of their competitions. As we look forward to the rest of the international seasons for the Uganda teams still participating,"
"We regret the inconveniences that the cancellation will cause." the statement concluded.
Kenya Simbas dominate Elgon Cup
Kenya Simbas have dominated this competition winning the last four editions. The competition was last played in 2019 with the Simbas bouncing back to beat Uganda Cranes 16-5 in the return leg in Kyadondo, winning 29-21 on aggregate to retain the Elgon Cup. Kenya trailed 16-13 in the first leg, which was held in Kisumu's Mamboleo Showground.
Kenya was boosted by the return of senior players, with Kenya 7s winger Jacob Ojee earning man of the match honours in the clash.
The matching women's Kenya team, the Lionesses, also retained the title after defeating Uganda Ladies in both matches, winning 35-5 in the second leg.
The 2020 and 2021 editions were cancelled following the COVID-19 pandemic which saw most of the competitions cancelled.
These two sides met in France during the Rugby Africa Cup quarters with Simbas winning 42-7.
About Elgon Cup
Kenya and Uganda Cranes compete for the Elgon Cup. These nations' men's and women's teams compete yearly for their respective cups on a home-and-away basis. The tournament and cups are named after Mount Elgon, a peak on the boundary between the two nations.
The men's Elgon Cup began in 2004, while the women's Elgon Cup began a few years later, in 2006.